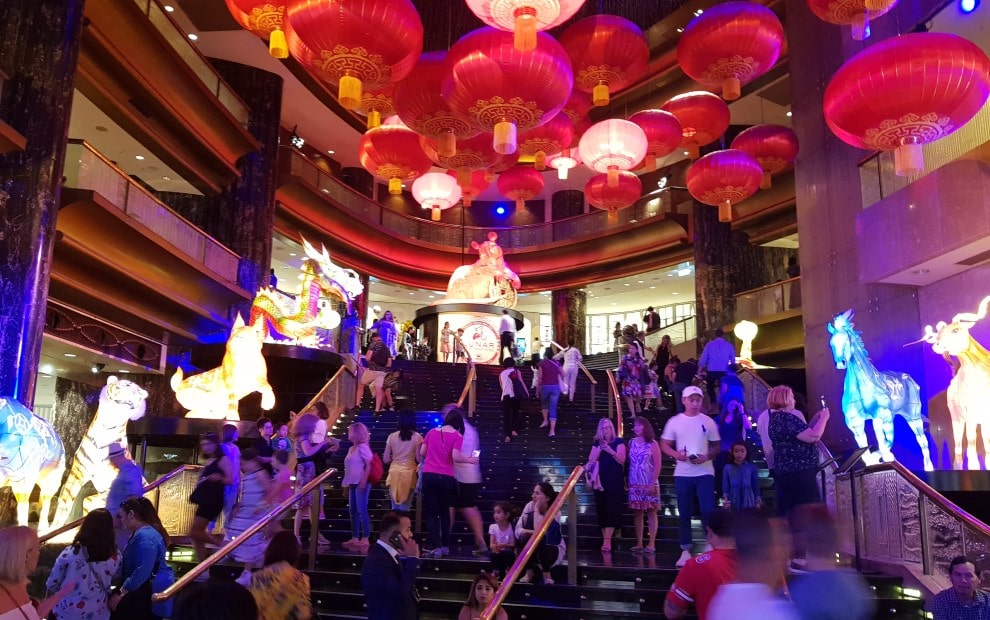 I first started working on the Chinese New Year display at Crown Casino in 2015.
At that time the display for the `Year of the Goat` was already in place and although it was sweet, it lacked the impact which a grand public space such as the Atrium at Crown deserves.
Crown wanted something more from their annual Lunar New Year display and that`s where my skills, experience and qualifications as an IFSA Accredited Feng Shui Master, plus my years of living in Singapore came to the fore. After enjoying many CNY celebrations in Singapore I had observed their brilliant, interactive displays and it was these that inspired me.
Whether it was conducting Chinese Astrology readings at the Singapore Flyer or wandering around the colorful CNY market at the Fu, Lou & Shou Centre there was one thing which the displays often had in common and that was their Zodiac Forecasts for each of the 12 animals.
These not only attracted people, but they also informed and advised them about the various possibilities for the coming year.
So our collaboration began and after `tweaking` the images for each animal (making sure the Dragon was benevolent and the Tiger didn`t look like a big pussycat), the skilled craftsmen set to work to create these amazing 12 animals of the Chinese Zodiac!
This is now the 5th year in which the Zodiac Spectacular has been a feature of the CNY celebrations at Crown Casino and I must say that it is grander than ever with the giant, glowing animals, huge Chinese lanterns and Zodiac Forecasts drawing enthusiastic crowds of people.
Each year I visit the Atrium at Crown to check how the Zodiac Spectacular is being received by the general public and once again I am overjoyed by everyone`s response!
The display continues to have exactly the sort of interaction I intended with people of all ages, all nationalities and all walks of life taking selfies and family pics in front of their Zodiac animal, avidly reading their Zodiac Forecast and even photographing their forecast for future reference, as well as those for other family members and friends.
If you haven`t already visited the Zodiac Spectacular at the Crown Atrium this Chinese New Year, may I suggest that you do so, as it really is a wonderful sight to behold, as well as a wealth of valuable information.
So Gong Xi Fa Cai to everyone and may the Year of the Golden Rat bring you good health, happiness and prosperity!